Luggage allowance
Each passanger can take the following luggage with him/her for free on international coach services operated by VOLÁNBUSZ:
1 piece of a handluggage, not exceeding 10 kilograms, which you can place under your feet; hold it on your lap or put on the luggage rack above your head
We suggest you to have your handluggage always in sight.
2 pieces of baggage, 20 kilograms and 80x80x20 centimeters each
---
Passangers can usually carry the same amount of luggage for free on services operated by international partners of VOLÁNBUSZ but there are exceptances for example:
line Budapest-Miercurea Ciuc operated by company GIG Impex where
1 piece of a handluggage, not exceeding 10 kilograms,
1 piece of baggage, not exceeding 20 kilograms
is to be transported free. More baggage can be transported (depending on capacity) for 2 000 HUF/piece.
---
Information about carriageable luggage on international coach services operated by FLIXBUS can be found on the website of FlixBus.
Your baggages will be places by the driver into the luggage compartment after marked it with a luggage sticker which goes on your ticket as well (by services not operated by VOLÁNBUSZ it can happen that the driver won't use luggage stickers). In case you showed your ticket to the driver on a mobile device than please keep your luggage control coupon carefully as you can proove your ownership over the luggage with this.
By arrival you can compare the luggage stickers places on your ticket or handled to you and on the baggage to be sure you have your luggage.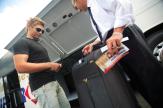 To ensure better visibility we suggest you to put an individual marking (for example a ribbon, a sticker, etc.) on your luggage especially when it is a common type.
Tickets bought by VOLÁNBUSZ Co. Ltd. for its and for services operated by its international partners as well as tickets bought by FlixBus for services operated by VOLÁNBUSZ contain luggage insurence about you can inquire on our website.
In those very rar cases when the luggage got hurt during the journey we ask you to tell about it to the driver right by the coach.
Should you have the intention to take conditional luggage with you on services operated by VOLÁNBUSZ we ask you to contact us prior to buying your ticket.